Kriya Yoga Discipleship Training Course
The Kriya Yoga Discipleship Training Course consists of an 8-week series of classes. Each class is delivered as a video.
This course is to serve as a manual of study and guide to conscious spiritual practice in the light of a guru-disciple relationship.
There are no expectations that one will have to participate in a guru-disciple relationship in order to grow spiritually. The information provided here is for those who may feel that cultivating good report with a mentor or teacher could assist them on the awakening path. Also, it is important to remember that this course is intended to provide points of contemplation when considering such a relationship. At the end of this short course of study, it is my intention that seekers on the spiritual path will have been given the information needed to cultivate the discernment required to successfully and consciously participate in a guru-disciple relationship.
This course also outlines a method of making the most of one's opportunity to participate in the Kriya Yoga tradition.
The Kriya Yoga Discipleship Course is ideal for those new to Kriya Yoga, and also for those interested in recommitting to their chosen spiritual path.
Kriya Yoga Apprenticeship Program
The Kriya Yoga Apprenticeship Program is an advanced avenue of learning for those interested in a more intensive learning process.
The Kriya Yoga Apprenticeship consists of two years of online instruction, each concluding with a week-long in-person retreat.
Year One is eight months long, consisting of 27 audio and/or video classes. One live Q&A webinar will occur each month between January and August.
Year Two is six months long, consisting of 24 audio and video classes. One live Q&A webinar will occur each month between January and June.
Course material is expected to be studied, contemplated and applied as the program proceeds.
Each year of study will conclude with an online or in-person week long retreat. Retreat dates will be announced 4-6 months in advance to allow plenty of time for proper travel arrangements to be made. Retreat participation is encouraged. This retreat is limited to 25 participants.
During the course of study, video and/or audio recordings will be sent on a weekly basis.
Email questions can be sent in throughout the duration of the courses. Answers will be given by email or covered at the beginning of the next week's class.
Participants will be required to submit a meditation log/journal for review. Meditation journals are kept for the duration. Certain date's entries will be requested throughout the course.
This Kriya Yoga Apprenticeship is on a donation basis.
Required previous study includes the 11-Hour Downloadable Kriya Yoga Training
Participation and completion of the 8-Week Kriya Yoga Discipleship Course, offered through this site, is also required.
It is also advised that you have listened to and studied the Kriya Yoga Meditation Beginners Guide and the Introduction to Modern Kriya Yoga Spirituality available at https://www.youtube.com/user/KriyaYogaOnline/playlists.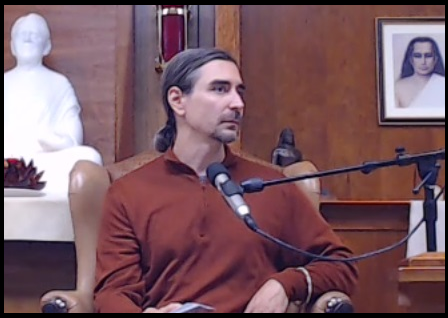 Kriya Yoga Online Mission
"Since the Autumn of 2000 I have been practicing Kriya Yoga. In the Summer of 2005 I was authorized to teach and ordained as a minister of Center for Spiritual Awareness, a Kriya Yoga organization founded by a student of Paramahansa Yogananda, Roy Eugene Davis. Since that time, I have remained committed to the same practice. I have also endeavored to remain conscious of the changes that have occurred in my mind and awareness due to living a life centered in the Kriya Yoga philosophy. Through this awareness I have done my best remember the lessons learned, so that through the mistakes, challenges and successes that have occurred during the practice of a Kriya Yoga lifestyle I may pass on the results of those lessons. Ideally you can learn from my own process, and go more deeply into your personal relationship with Self and God. 
My goal is to teach you to practice contemplation on your chosen spiritual texts or ideals until you have direct insight into the truth you are seeking. Through contemplation you can ultimately learn to have a direct conversation with your Self and God. With persistence, in this way, you eventually learn that every moment and every breath is a conversation between your Self and God. This all occurs, step-by-step, slowly and surely so long as one remains committed to their inner work, every day of every year of one's life. My intention is to start you off with the best information and practices to realize this possibility." -Ryan Kurczak
The Kriya Yoga Discipleship Course is Where it All Begins